Introduction
The Pause is a climb in Glen Etive, Scotland, on glacier smoothed granite slabs on the flank of Beinn Trilleachan. From the roadhead the slabs look fairly insignificant but standing under them reveals their true stature. The grade of the climb is E1, a traditional climb where you have to place your own protection, if you can find any.
I was living in London at the time and it was usual, when driving up to Scotland, to leave in the evening and drive all night. I had teamed up with Dave and The Pause was high on his ticklist, whereas I had little prior knowledge of it. I was about to experience one of the best climbs in the UK.
The Pause: Easter 1995
Am I dreaming or am I not, not I think, although I wish I was, as we roll up that black ribbon of tar that is the m6. In my struggle to sleep every nod is hard earnt except when it's my turn to drive when they come all too easily. Round glasgie I hand back the wheel and heading out on the high road I finally succumb as sleep tugs me down into its warm wormhole. In its embrace I'm transported to a bleak windless moor where moonbeams ride on the backs of turtles and white feathers float in and out of the shells. "There's not much snow", is the little sense I can make of the scene. Blinking back the shivers of sleep the world recovers its mantle of normality, if standing on a windless, moonlit night at three in the morning in the midst of rannogmoor can be said to be normal. We make tracks across the watershed to the infant coe, before muscling past those shepherds and out of the gloomy confines, down to the roadhead and a place to rest, with a carrymat on the quay, a bag to embrace me and the universe for my counterpane.
Morning glory blue glows from sky and lock with whips of wool and cawking calls to greet a drowsy dozer and Dave, "so you are awake then". "Yeah". The wind's still still and mist piles on fog, except that lump's not cloud, must be snow on ben, but if snow not cloud then whichwhatwhere, well work it out, must be ben kracken. Tie a mental handkerchief knot, must do that, munroe or two. Up the hill the slabs roll down, a stack of grey shields streaked with darker bands, held up by who knows what force. "What dya think?" "Looks better already". "Weeps a lot". "If we don't do it now we never will". How right I was.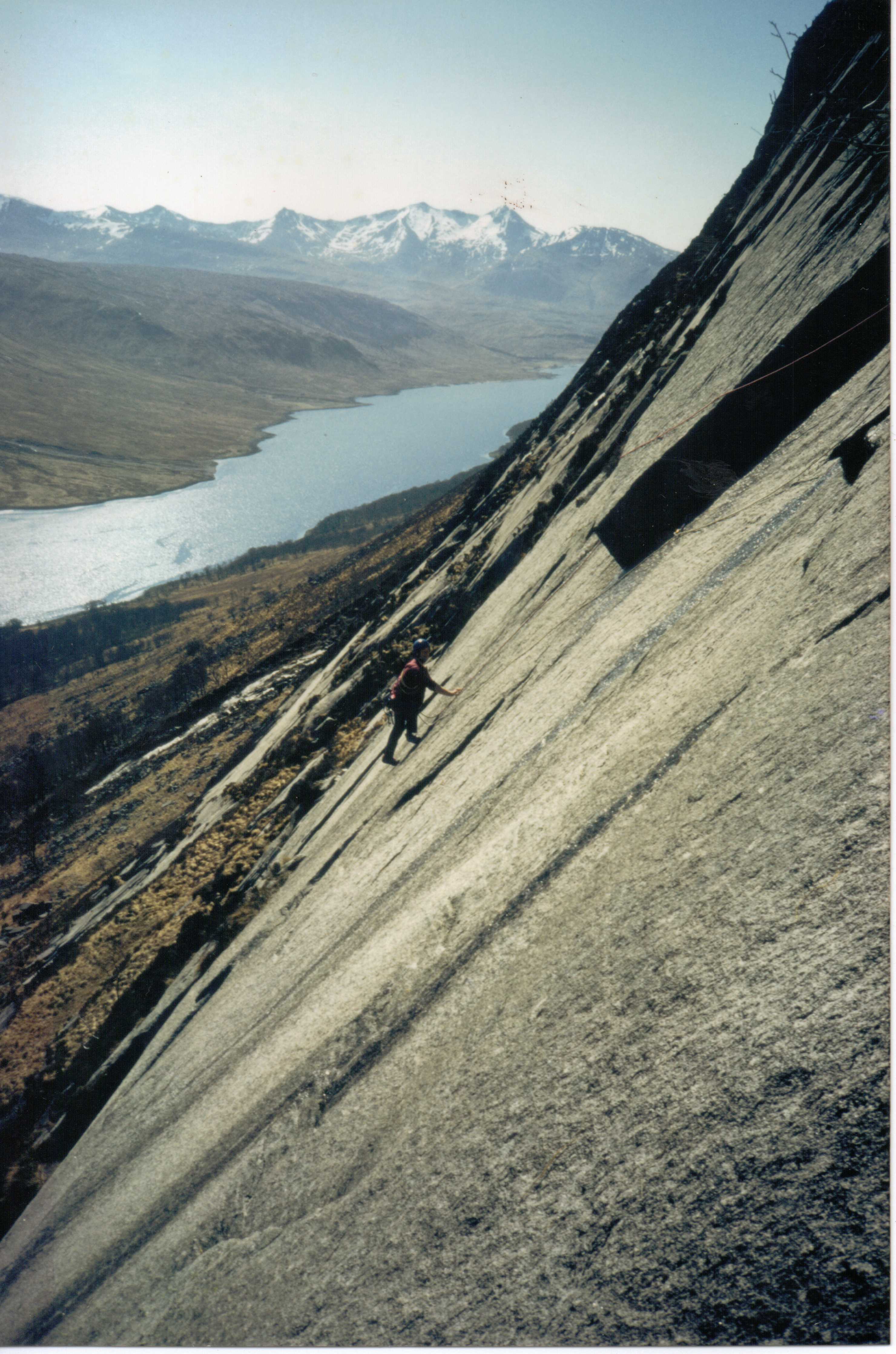 Pitch 3
So up the slope we trudge to where the coffin stone lies buried in the ground above the treeline and below the treelicking slabs. It's early yet and gravity strains at my sphincter. "Can I borrow your bog paper?" So it's down to the trees to find a sheltered spot amongst the rocks and ferns, a primeval bog indeed, a truly idyllic spot for a stinky pooh. Treeless leaves are scooped up to hide the crime then it's back into the sun where the pause waits with relish. "I'll do the easy bits", I say recalling the stories of Whillans running downhill fast to escape friction burns.
So Dave ropes up and sets off up the grey-pink granite in the requisite position, almost bent double like he's waiting for an almighty shag. Don't laugh because it'll be my turn soon, and once I do start being taken from behind is the furthest thing from my mind. The first law of climbing, trust your feet, is soon the only hope of progress; more smears than a sewer full of bog paper. Over the first overlap I come upon Dave, so it's my turn to lead. Tiptoeing the lip of the overlap and feeling my way across a weep I pray that friction will keep me there; somehow it does. Next comes the crux pitch a traverse beneath the main overlap to the crevasse. Dave takes his time so I admire the view. What a day, azure above and below, air as still as a whisper, it's worth a scream except it might dislodge Dave. There's only one other team on the whole flipping caboodle, they're tackling spartan slab and their struggle to surmount the overlap with full rucksacks is a hoot.
Nick on the crux moves
A distant voice, Dave's, recalls me from my reverie and spurs me into action. Up easily at first then, awkwardly trying to undercling a weeping overlap, progress slows. Then comes the crux, it says 5b in the book but how can you rate moves where there are no holds nowhere, nothing but fearsome friction to hold you, I guess by a result. Delicately, oh so delicately I crab sideways amazed that I am beating the odds until I can lunge for the primal security of the crevasse.
Barely half way if that, half time, half mad, half twelve, half cut, half dead, half a sixpence, not half. My turn to lead again and like a joey I leave the crevasse and climb up except there is no fur to pull on, nothing to pull on. Kangaroos would soon die out faced with this.
The upper slab
Floundering in a sea of granite I see below trees like flecks of paint, a wash of etive blue, the buckles beyond, brilliant, better than bleach climbing sure gets you to those inaccessible places. That's what I like best, the physics, the psychology, the geography, the geology, not so much learning more the application. Well we have to apply ourselves some more to this with two more pitches gaining height steadily, steeper than one in one, till we come upon the final headwall. This is plumb vertical and is overcome by more normal climbing techniques, a layback and a grunt. And we're there in amongst the heather halfway up a ronnie, coiling ropes, winding down. A daft way to get nowhere in particular, a hillside by a lock. Pick a lock and climb and you'll be halfway up in a tenth the time it took us, but would you feel as elated, as satisfied. Go to it. The pause still waits.
© Nick 1995