Enough of Hygge 2 - Introduction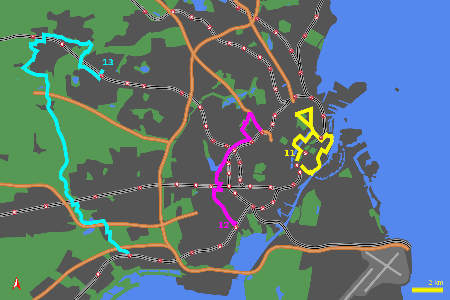 The Danish word hygge refers to cozy and comfortable surroundings that invoke an inner sense of contentment or well-being. Scenes in which hygge is evident include two people warmly snuggling by a roaring fire on a cold winter's night while sipping glogg or hot cocoa.
Enough of hygge means it is time to extinguish the fire and get out into the big wide world to experience the joys of movement and discovery.
Three more cycle tours are described which take in Copenhagen and its surroundings. These tours are designed with visitors to Copenhagen in mind, to show off the best sights and the variety of the City, however they will also appeal to locals as they are enjoyable in themselves. The travel planning website: www.rejseplanen.dk is a handy resource for travelling to and from the cycle tours. The website for the Danish railway DSB www.dsb.dk explains the different ticket types available, from tourist passes to travel cards.
The first tour in this list covers the route taken by the Tour de France Grand Depart on the opening stage of the 2022 race - a time trial around the streets of the City. The professionals will cover the course in 15 minutes or less, unless they slow down to take in the sights.
There are plenty of places to hire bicycles in Copenhagen. The opportunities change too frequently to keep up-to-date, but an internet search will reveal all.
Each chapter contains a map showing the route, plus the text contains GPS coordinates for significant points on the journey, such as major junctions. If you are lost you can put these GPS coordinates into an online map to show where you should be.
The following table lists these tours, with a link to each one. The map above shows an overview of the tours - it can be expanded into a new frame by clicking on it.
| Chapter | Name | Link |
| --- | --- | --- |
| # 11 | Tour de France Copenhagen | |
| # 12 | City Bronze age burial mounds | |
| # 13 | Kalkmalerier and the western outskirts | |