Introduction to Rock Idol audio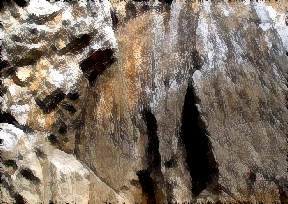 In this episode I recall my experiences of a climb called Rock Idol. Traditional rock climbing, where you place your own protection can be an intense experience, and if you get it wrong the consequences can be serious.
Rock Idol is a climb on the sea cliffs of Pembrokeshire in a bay called Mother Carey's Kitchen. In mythology Mother Carey is a supernatural figure personifying the cruel and threatening sea. Climbers often refer to the cliff as Mother Scary's as the situation is adventurous and commiting. The base of the cliff is an immense tidal platform. Access is by abseil from the cliff top and the easiest climb out is not quite as easy as one might hope. Rock Idol goes up a huge overhanging corner at the west end of the cliff and it is a race against time to get across to its base and up the route before the tide cuts off the retreat.
Climbers use the term "pumped" to indicate the incapacitating build up of lactic acid in the forearms from too much gripping. I was more pumped on this climb than perhaps any other. And a "tick" is a tick in my book when I have completed a climb in good style - in this case onsight. An onsight means completing the climb first time with no rests on the rope.
I hope you enjoy this episode.
© Nick 2010